MUNNAR TOURIST PLACES
Munnar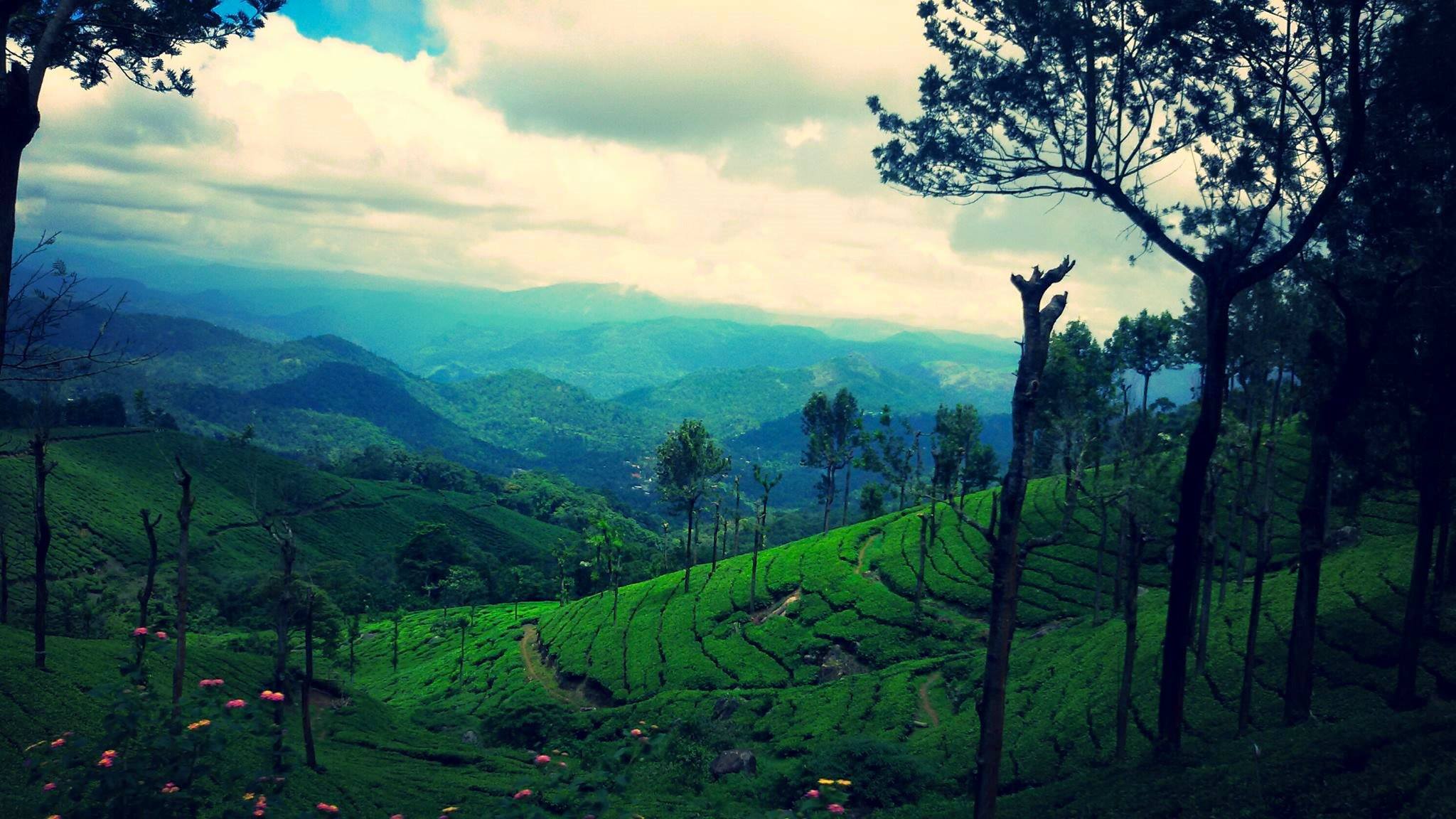 Munnar is a must see tourist place if you are visiting Kerala. Munnar is a hill station and one of the most beautiful places in Kerala to be visited . If you have plans to visit Munnar stay at least for 2 nights, you can enjoy Waterfalls, rolling hill and more than a dozen of places to see near Munnar. Most of the hotels provide NON A/C rooms in Munnar So if your trip is in summer (March – May) and require A/C Accommodation it is better to inform your travel agent in advance. Driving in hill stations requires some special skills so never hire taxi from Airport or Railway stations to Munnar as they will not be experienced in hill station driving. If your travel itinerary is short and first tourist place in Kerala is Munnar then it is better to move straight to Munnar.
8 BEST PLACES TO VISIT IN MUNNAR
I.Eravikulam National Park(RajaMalai): is considered as one of the best places to visit in Munnar. watch the Nilgiri thaws (rare species of mountain goats,) here you can find a rare tropical plant called Neelakurinji which blooms only once in 12 years.
Eravikulam National Park is the most important tourist destination to visit in Munnar. Located at around 28 kms from Munnar city the park is home to the endangered mountain goat, the Nilgiri Tahr. Anamudi the highest peak of Munnar forest region is located inside this famous park. The trip to Park is arranged by Kerala forest department in a mini bus and the ride through the zigzag road to the park will be a life time experiences for visitors.
ENTRY FEES FOR ERAVIUKULAM NATIONAL PARK
Indian – 83/- (Children – 65/-)
Foreign Nationals – 360/-
TIMINGS FOR ERAVIKULAM NATIONAL PARK
8:00 AM to 4:30 PM
ERAVIKULAM PARK CLOSED FROM FEBRUARY TO MARCH DUE TO THE CALVING PERIOD OF THAWS
2.Mattupetty Dam: It is famous for its still water which reflects the tea garden around. It is easily accessible from Munnar town. If you are an adventure lover you have a chance to trek to sholar forest from here.Mattupetty dam is another attraction to visit in Munnar. This dam was constructed is a part of Pallivasal hydroelectric power project. Dam attracts lot of visitors and lakes surrounded by the dam offers water sports activities like pedal boat rides and speed boat facilities.
Entry -Free
3 Cheeyyappara Water Falls: It is a beautiful waterfall. It is on the way from Cochin to Munnar ,best for some snaps and short break in the journey to Munnar. Cheeyappara waterfalls located on the road from Cochin to Munnar mark a spectacular landmark which gives an that you are in Munnar. Monsoon makes this waterfall more attractive and as it helps in boosting the volume of the waterfalls .It is a good spot for photo shoots and a travel break as it is located close to the road.
Entry -Free
4.Devikulam: It is a Hill station with a awesome scenic beauty like all other tourist places in Munnar and a paradise for trekkers. If you are not fond of trekking this is the place that you can avoid. Devikulam hill station is known as the place with the lotus pond of Goddess. The chilly weather and greenery slopes make this attraction one of the must to visit tourist places in Munnar.
Entry -Free
5.Attukal waterfalls: This is a seasonal waterfall. It is best to stop here for photos towards your Munnar journey.Located between Munnar and Pallivasal, this waterfall attracts large number tourists from all parts of the country. This stunning attraction is surrounded by thick forest and lush green terrains reachable only through wooden bridge. The view of panoramic waterfall and rolling hills is breathtakingly beautiful and it a must visit place in Munnar.
Entry -Free
6.Flower gardens: Wonderful place with different types of flowers.This is an amazing place to immerse yourself in the gift of nature. Located between old and new Munnar, this captivating attraction has fresh flowers, majestic landscape, beautiful migratory water birds and eye catching butterflies. The garden has a wide range of recreational facilities like artificial waterfalls, landscapes and beautiful gardens.
Munnar Flower Garden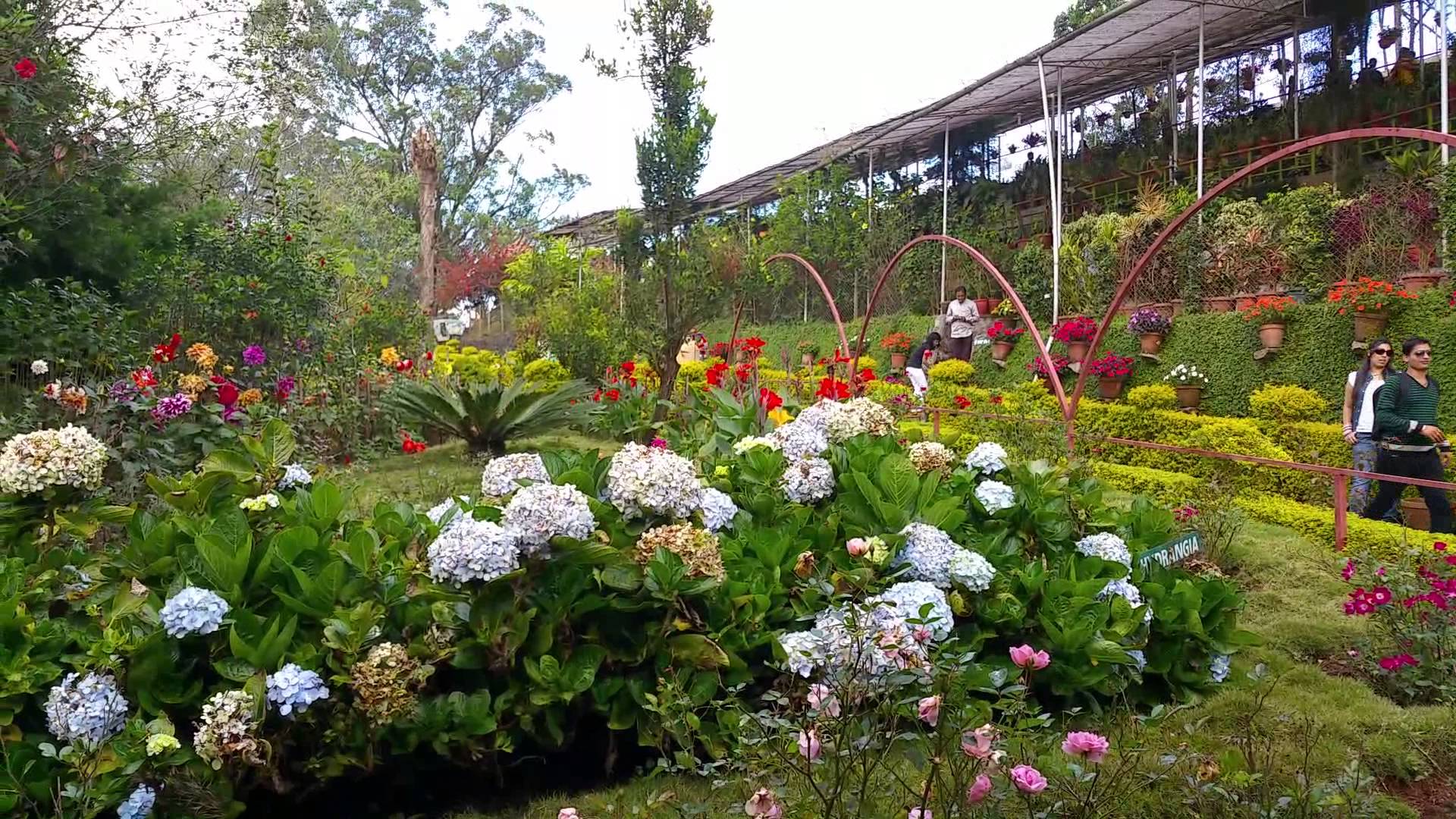 The best part is all flowers are defined by signs. Highly recommended for family tourists and children.
Entry Fee –INR 30
7. Echo Point Around 14.5 Km from Munnar: A must place to visit if you are visiting with Munnar with family. A best place for children to scream and hear back their voice after few seconds.Echo point is one of the most popular tourist destinations in Munnar ideal for trekking and nature walks. As the name suggests you call out from the high altitude mountains here and hear your voice being returned by nature. It is sought after attraction due to its captivating beauty and must visit place if you are travelling with children.
Entry -Free
8.Tea Museum- The first team museum in India open for public. Owned and Run by Tata Tea this museum shows the history of tea plantations in Munnar through a 30 minutes short film. The main attraction is the live tea making process.TATA Tea museum is a new addition to Munnar tourism attractions. It is a wonderful and interesting places to see and learn how your favorite tea powder is churned out to its present form. Here you can see the original tea roller of the last century and learn about the origin of tea and other details.
Timings - Opening & Closing for Flower Garden: All the days of a week
Monday – Sunday: 9.00 AM - 6.00 PM
Entry Fee- INR 75 Adults & 35 for Children.
Tea Tasting Charges - INR 20.
Open on all Public Holidays
There are many other tourist places to visit in Munnar like Top Stations, the highest point in Munnar. Located in the border of Kerala – Tamil Nadu border at a distance of 34 Kms from Munnar town the place is a feast for the eyes in true sense. A trek to the top station is the most interesting item for trekkers and adventure lovers. Though it is difficult to explore all the places in one go, one thing is sure – Munnar will not disappoint its visitors.
Distance from Different places to Munnar
Cochin to Munnar:127 km/4.30 Hours
Thekkady to Munnar:85 km/2.30 Hours
Trivandrum to Munnar:265 km/5.40 Hours
Kanyakumari to Munnar:336 km/6.45 Hours
Alleppey to Munnar:160 km/04 Hours
Best Places to visit Near Munnar
Munnar, known as the king of hill stations is a preferred spot for hill station lovers, honeymooners and weekend travelers. Known for its majestic tea plantations and rolling hills Munnar is also known for some of the hidden gems, the offbeat places to visit near Munnar. The best off beat places to visit near Munnar are Kolukkumalai Tea Estate-the highest tea plantations in the world that provides a wonderful view of the stunning valleys. Among the must visit tourist places near Munnar are Muthuvans Tribal Village -31 km from Munnar, Mathikettan Shola National Park (32 Km from Munnar), Mathikettan Shola National Park.( 33 Km from Munnar. From Kallippara Shola Sunset Trek (35 km) the panoramic view of the Munnar hill station lollis amazing where you can find yourself fazing long into the Rajmalai from different viewpoints. Kumily-the gateway to Thekkady located in the strategic location of spices business in Kerala
Munnar Shopping.
Munnar shopping is a feast for the senses. It is the best market in India for spices. Smell the flavors of Munnar as local people shops for variety of spices including cardamom, black pepper, cinnamon, ginger and clove. Munnar is famous for top class tea and coffee powder. Explore the beauty of this hill station and shop for the fresh explores quality spices at the bottom prices. Cardamom, Green Tea and Coffee are the hot selling items in Munnar.
How to Reach Munnar
Nestled on the lap of Western Ghats, Munnar is a wonderful hill station located 1600m above the seal level. This hill majestic hill station is often called as the "Queen of Hill stations ". Munnar is laced with picturesque valleys, alluring cardamom farms and perfect climate for dream vacation. Located not very far from Kochi, Munnar hill station is easily accessible by road. Munnar doesn't have a railway station or an airport. However Munnar can be accessible by road from all parts of the country. Angamaly,(Station Code AFK) Aluva (AWY)and Ernakulam (ERS)Railway stations are the nearest railway stations that connect Munnar to the rest of India. Nearest airport is Kochi International Airport.(Airport code COK)
Best Season to Visit Munnar
Munnar attracts lot tourists every year. Period from March to May is the dry season a great time to visit the hill stations in Kerala as rainfall is not expected during this period.
Munnar in Monsoon Season
Is Monsoon a great time to visit Munnar? It rains incessantly and sky remains mostly cloudy during monsoon period in Munnar. Majority of travelers do not consider Munnar as a tourism option during this period. Munnar is known for Landslides and floods during rainy season. Earthquake is expected any time due to the instability of the soil. So it is better to avoid visiting Munnar during Monsoon. But if you are keen to visit Munnar in Monsoon period, then enjoy rains from a resort with a good view and avoid visiting river channels and streams as sudden river flow can spoil your holidays without a warning.
Munnar Temperature
Temperature of Munnar ranger between 4°C and 24 °C in winter season and 14 °C to 24 °C in summer season. The lowest temperature recorded in Munnar is -4 °C. The average temperature during monsoon season ranges between 12°C to 18°C.
Munnar Tourism Map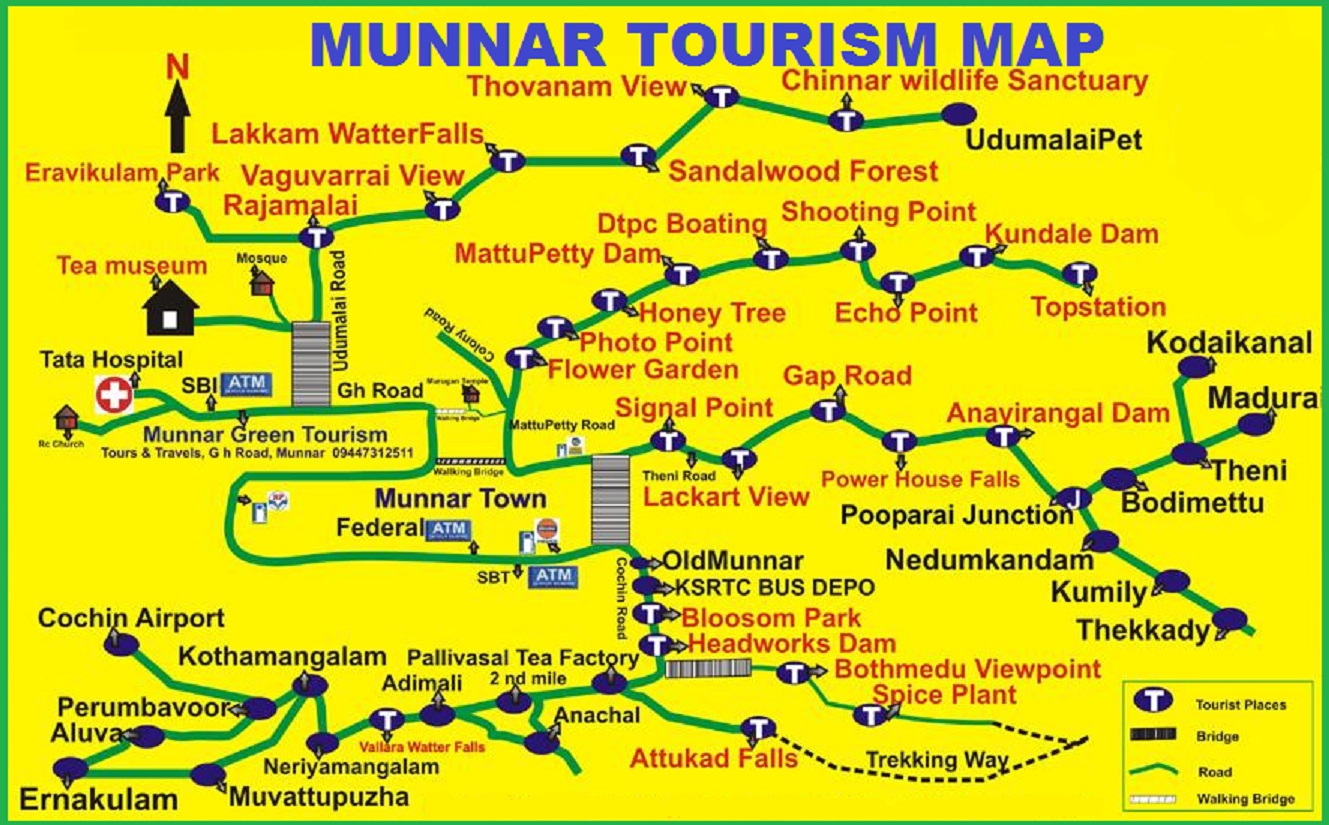 Munnar Updates:
Munnar – Bodhimettu Highway which was blocked from 7 Am to 6 Pm for road widening work will be re opened from 15th August 2018 due to Neelakurinji Season.
More about Neelakurinji
Neelakurinji (botanical name is 'Strobilanthes kunthianus') is a shrub found in the forest regions of Western Ghats area in Munnar. This rare plant has a 12 year flowering cycle and the next flowering season will begin from This wonderful phenomenon will be a rare and an awesome spectacle for the tourists visiting Munnar from October as the stretch of this wonderful hill stations will be soon decorated in a majestic shade of blue from July 2018 to November 2018 after a gap of long 12 years. In fact, this period will be the most ideal time to visit Munnar for witnessing such a stellar phenomenon without any restrictions.
Also Read: Thekkady Places to visit