HOW TO REACH KEARLA
Kerala is small state situated in the extreme southern end of India. The southern state is easily accessible and well connected by all Major systems of transport from all over the world.
BY AIR
Three International Airports in Kerala are Cochin (also known as Kochi) Trivandrum (also known as Thiruvanthapuram) and Calicut (also known as Kozhikode) If your travel Itinerary Include Tourist spots in Kerala like Cochin,Munnar,Alleppey and Kumarakom then it is advisable to book your onward and return Journey from Cochin . If you have enough of days for your Kerala travel and your Kerala places to visit include Cochin,Munnar,Alleppey,Kovalam and Trivandrum then we would like to suggest you to book your onward journey up to Cochin and Return Trip from Thiruvanthapuram. Kozhikode Airport is suitable only for Travellers visiting tourist spots in North Kerala
KERALA AIRPORTS WITH CONTACT NUMBERS AND AIRPORT CODE
Cochin International Airport(COK)
+91-484 -2610115
Trivandrum/Thiruvananthapuram (TRV)
+91-471 270 2600
Calicut International Airport (CCJ)
+91-483-2719491
Airport Authority of India (South India)
Customer carte desk- 1800227722
Telephone – 08025548888
Contact numbers of Major Airlines in India
Kerala is the only state in India that permits Autorickshaws inside the Trivandrum & Kochi International Airport Terminals to drop passengers.
Air India 1800 180 1407 /1800 22 7722
Indigo Airlines +91 99103 83838
Spice Jet +91 98718 03333
Jet 1800 22 3020 / +91 3989 3333
Go AIr +91 92232 22111
Visitara 1860 108 9999
Kochi Airport Security Measures, Luggage, Restricted items, Prohibited items and other details while traveling by Air/Flight to Kerala Read More:http://cial.aero/contents/viewcontent.aspx?linkId=76&linkLvl1Id=13
BY TRAIN TO KERALA
Reaching Kerala by train is the easiest way as the state is well connected by rail networks from all over the country. There are more than 200 railway stations in Kerala. While planning your travel to Kerala we would like to suggest you to book your train ticket up to Trivandrum if your Travel Plan includes popular South Kerala Tourist Spots like Trivanadurm and Kovalam. For visiting Kochi Tourist Places Ernakulum is the nearest Railway Station. Cochin/Kochi is a part of Ernakulum District of Kerala State. If Munnar is your first tourist place to visit in Kerala then you better get down at Alwaye/Aluva Railway Station as it is the nearest railway station to Munnar.
Railway Inquiry Number: 131
Reservation Office: 132
Railway Station Codes
Ernakulum north- ERN
Ernakulum South- ERS
Alwaye/Aluva -AWY
Trivandrum /Thiruvanathapuram- TVC
More information about train service to Kerala: http://www.indianrail.gov.in/
Kerala is Directly connected from both Karnataka and Tamilnadu by National Highway 47,17,19 an extensive system of road connected Kerala to rest of the Country.
Kerala Highway alert Number: +91 9846100100
Kerala Road Map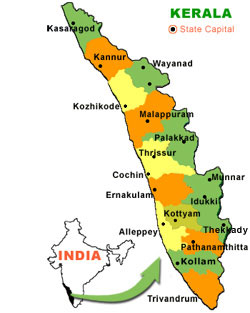 Kerala Tourism Map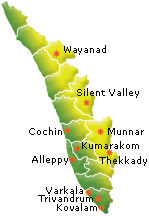 Also Read : Best Seasons to Visit Kerala
Also Read : Kerala Travel Tips & Information