Kerala Festivals & Rituals
Kerala is a land where festivals never end, They Unfold the rich & varied culture of the God's own country by combining mirth & joy. These are some of the most popular festivals of Kerala like Onam, Thrissur pooram, Theyyam festival and the famous Boat race.
Snake Boat Race in Alleppey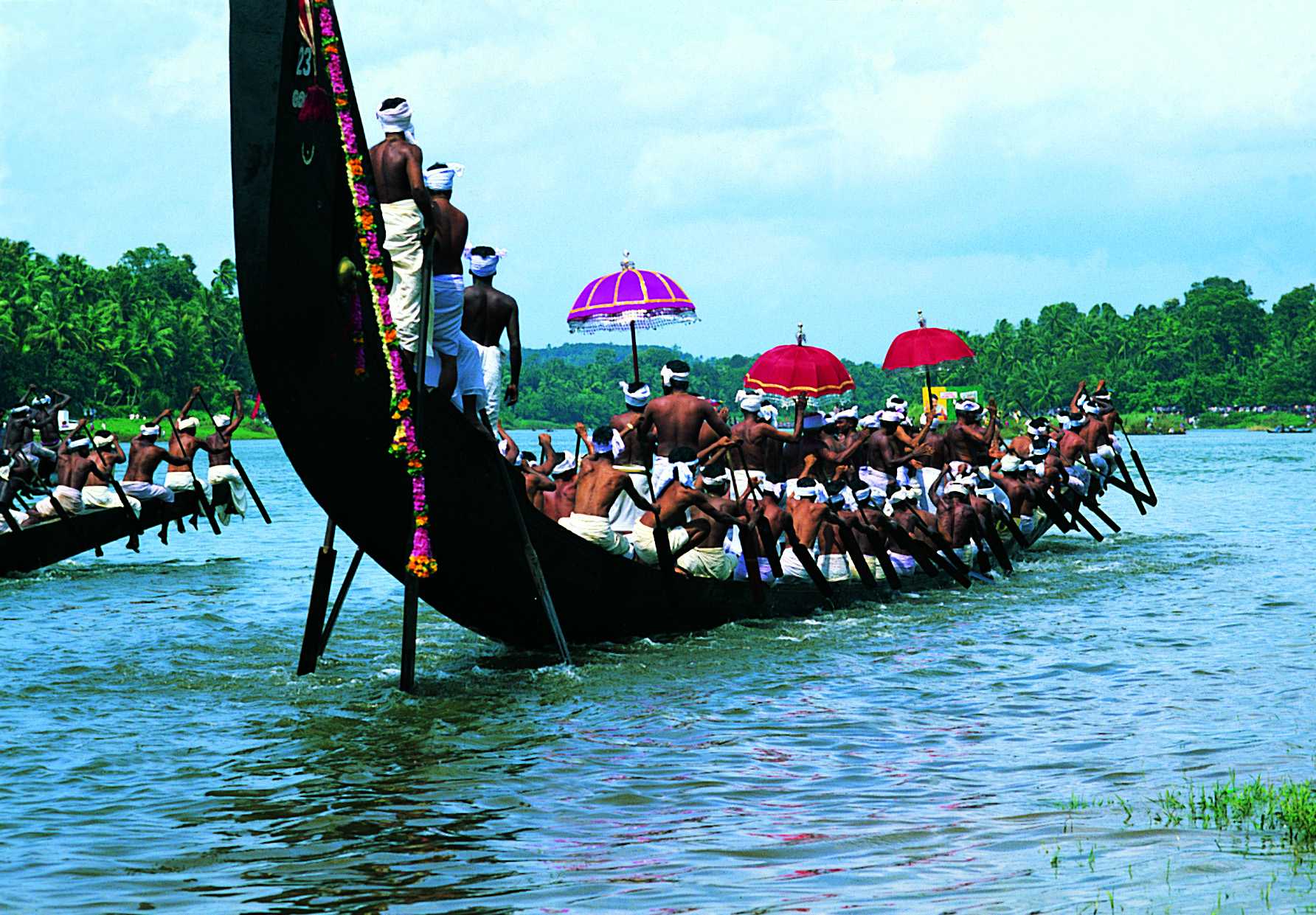 Crazy Rituals in Kerala, India
Garudan Thookam (Eagle Hanging)
Garudan Thookkam or Eagle Hanging is an important unusual festival celebrated in the Goddess Kali Temples of South Kerala in India. This uncommon ritual is performed every year at Elamkavu Devi Temple at Vaikom 555 Km from Cochin and Airapuram Temple at Perumbavoor 33 Km from Kochi International Airport in Kerala. Garudan Thookam or Eagle hanging ritual in Kerala is the culmination of the annual festivals to please Hindu Goddess Kali for solving the problems and sufferings of the people. The ritual starts with the dance performance of participants. Traditional dance with music motivate them for the hanging ritual. Garudan Thookam –Eagle Hanging starts with a bow before the goddess for strength. All hanging participants will be dressed up like Garudan, (Eagle) believed to be the vehicle of Hindu God Vishnu who killed Demon Darika to quench the thirst of Goddess Kali. After dance performers all the devotees are pierced at their back with hook and hang themselves like eagles from a shaft. This hanging like eagle is known as Garudan Thookam. Then these bleeding garudans are taken around the temple for a religious procession.
According to Hindu Mythology God Vishnu sent Garudan(Eagle) to quench the thirst of Godess Kail and the angry Kali was pacified only after drinking some drops of blood from Garuda. This unusual festival is performed is based on this belief.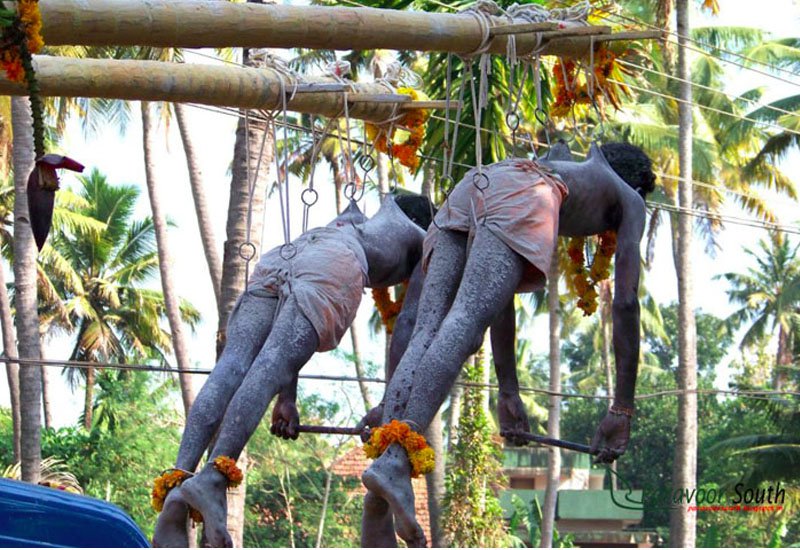 Puli Kali (Play of the Tigers) in Thrissur ,Kerala.
Puli Kali or Play of tigers is the popular folk art of Kerala. It is the main attraction of the festival "Onam" every year. Puli Kali is celebrated in Thrissur and Palakkadu Districts of Kerala. This colourful performance is the main attraction of Onam Celebrations. Performing artists wear tiger mask and painted like a Tiger to be hunted by people with music to entertain the people. the play is attracted by a lot of people including children in Kerala.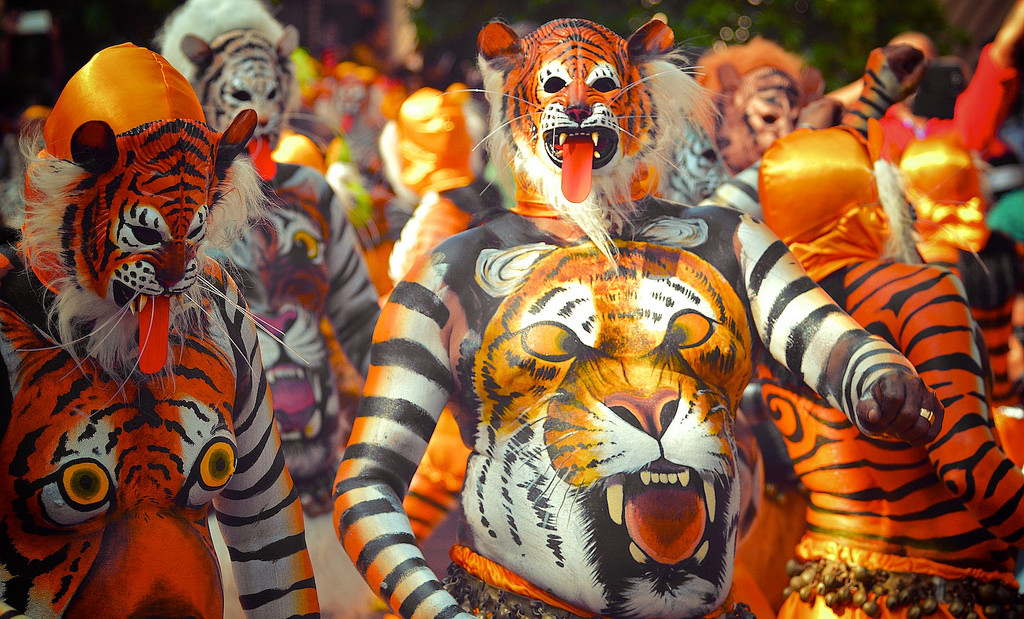 Theyyam Festival –Men Dance as God
Theyyam is a dance festival where men dance as God. This ritual is celebrated in the Kanuuar and Kasargod Districts of Kerala in India. Theyyam Dancers are dressed in elaborate make up and participants perform to drumbeats in a highly spirited mood. During the dance they are in their possessed state and perform unusual things like walking on fire and bless devotees as God. Their performance becomes more intense with the speed of music.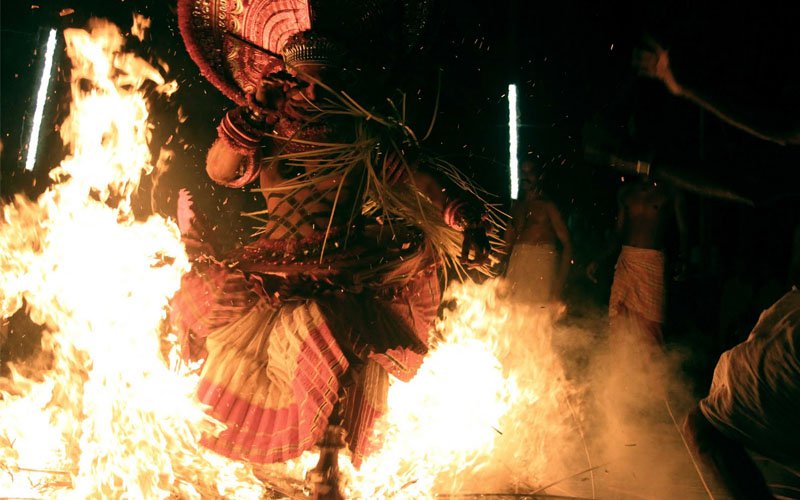 Shopping in Kerala
Shopping is an important part of travelling especially when you are visiting truly exotic destination like Kerala. During your Kerala holidays you come across a wide range of souvenir items that reflects Kerala's culture, history, Art & Socio-religious aspect. Below mentioned Items are some of the attractive and unique handmade products like Aranmula Kannadi (metal mirror), Mural paintings, Kasavu saree (sari with golden brocade), Nettor petti (Traditional Jewellery box), Nettipatham (Caparison of Elephant), Kathakali models, coir products and many other items
Cuisines of Kerala
Like every other states of India Kerala too have its own traditional cuisines. The cuisines of Kerala include varieties of vegetarian and non-vegetarian dishes. Kerala is also known as land of spices. The food is generally spicy but if you are not fond of spices you can try out various dishes like Appams, Idlli's etc. If you are non-vegetarian the sea food specialties are something that you can't afford to miss. Many Restaurants in Kerala offer North Indian, Gujarati and Jain foods as well.
Also Read : Kerala Places to Visit