KERALA BACKWATERS
National Geographic Channel has listed Kerala backwaters among the 50 destinations of a life time. Backwaters of Kerala is the unique and most important aspect of Kerala tourism Packages. It is a unique network of fresh water lakes, small rivers, lagoons and canals meshed with small islands surrounded by coconut trees. Alleppey also known as Alappuzha, Kumarokom and Kollam cities are major backwaters hubs in Kerala. Among these Alleppey and Kumarakom are the most popular backwater stretches in Kerala while Ashtamudi Lake in Kollam district is the largest fresh water lake in Kerala. The best way to experience the backwaters of Kerala is to hire a house boat. A ride or night stay in House boat is the high light of Kerala backwaters. There are more than 250 House boats in Kerala which offers Kerala backwater tour packages depending on your budget you can opt for budget house boat packages to Luxury Packages. House boats are categorized into Ac & Non Ac House Boats, 1 Bed room to 8 Bed rooms House boat to accommodate big groups. Multi storied house boats are also available for conferences, Marriage parties and MICE etc. if you are looking for a breath taking experience then go for the 8 hour longest backwater ride from Kollam Ashtamudi Canal to Alleppey (Alappuzha).the paddy fields surrounding the areas of backwater are perfect for a stunning photography.

Also Read : Kerala Kerala Hill Stations
FAMOUS ALLEPPEY TOURIST PLACES
Kerala backwaters and Bird Sanctuary are the most popular Alleppey Tourist Places. A cruise is in Kerala boat house is a different experience and you shouldn't miss. House boat gives an unique experience than staying in hotels but if you are short of time you can adopt for a day trip in House Boat which is for 4 hours. Alleppey has good hotels and resorts too. Overnight stay in houseboat is an unforgettable experience. Different Categories of House Boats are available starting from 1 Bed Room Deluxe House boat to 8 Bed Rooms Premium House Boat with Conference facility. Normally House Boat Air Condition would be operational between 9 Pm to 6 Am. Full Time Air Condition is available on Extra Payment. Apart from Backwaters and Bird sanctuary Shikara ride Points is also considered as a tourist place in Alleppey.
WHICH IS BEST PLACE FOR HOUSE BOAT CRUISE? ALLEPPEY OR KUMARAKOM
House Boat Cruises are available for day trip and duration of cruise is normally 5 hours. Day cruise is a part of House Boat package and no need to pay extra. Day cruises start around 10.30 Am and available up to 5.30 Pm. Alleppey and Kumarakom are the famous backwater cruise routes in Kerala. Alleppey is a town with a number of hotels and famous tourist place. Alleppey is best for budget travelers as all types of house boats are available here. Kumarakom is a village like area with limited numbers of boats and tourists hence the price is almost fixed. Alleppey gets hectic during holiday season where as Kumarakom is regarded as the least crowded place for House Boat cruise in Kerala. Kumarakom backwater is famous for houseboat tour. Compared to Alleppey you can find more number of luxury resorts in Kumarakom .if you want to avoid the noise of the city and need a less congested backwater stretch for backwater cruise then Kumarakom is the best place to start your house boat tour instead of Alleppey.
ALLEPPEY HOUSE BOAT BOOKING
Book Alleppey house boats according to your budget and preferences. Kerala Seasons provide online booking facilities for Allappuzha house boats during season and off seasons.
How to Book Your Alleppey House Boat?
Most of the houseboats are stationed at Alleppey and Kumarakom and mainly operating from these two destinations. Houseboats are also available at Kollam and Kasargod. Travelers can book Alleppey and Kumarakom houseboats in advance through Kerala Seasons Holidays and choose the Deluxe, Standard and Luxury, Super Luxury segments of houseboats for day trip, night stay as well as corporate meetings and marriage functions. Luxury and Super Luxury houseboat offer ultra luxury services and facilities like Jacuzzi, swimming pool, huge conference halls. If you are looking for luxury houseboats then Alleppey and Kumarakom are the most preferred destinations for booking luxury houseboats.
How to Choose the Best House Boat?
How to select a good houseboat for your cruise or overnight stay? At present more than 600+ houseboats are operating in Alleppey and Kumarakom. Most of the travelers have no idea about the quality and facilities of the houseboats and end up booking the low quality houseboats for their cruise. Houseboat operation is expensive and service, food and quality of the houseboat will be compromised if you go for cheap houseboats.
CATEGORY OF HOUSE BOATS & HOUSE BOAT CRUISES
Present House Boats are a modern version of old country boats used to transport different kinds of materials. Modern day tourist houseboats are of various models and available for rides and stay as per the size of family or group.
Deluxe and Premium House boats are the 2 main categories of house boats available in Alleppey and Kumarakom. House boats are available only on full day basis during season time and in off season it is available on hourly basis also. Houseboat cruise starts around 12 Pm and stops at 5 Pm.
DELUXE HOUSE BOATS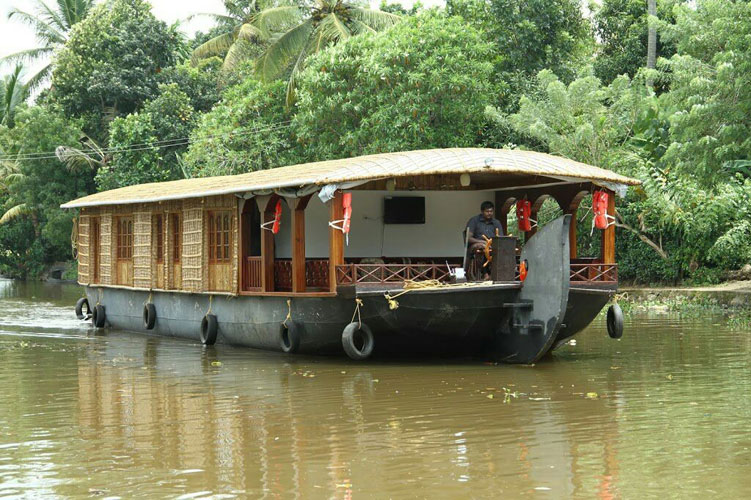 Deluxe house boat in Alleppey Backwaters
Also known as budget category house boat, It has a common space for dining and sitting, private Ac bed room and staff include Chef and cum driver. In Deluxe category House Boat Ac will work from 9 Pm to 6 Am when the house boat is stationed. Staying in Non Ac House Boats are not recommended especially in monsoon season as the vast expanse of greenery and placid waters, though clean tend to have mosquitoes.
PREMIUM HOUSE BOATS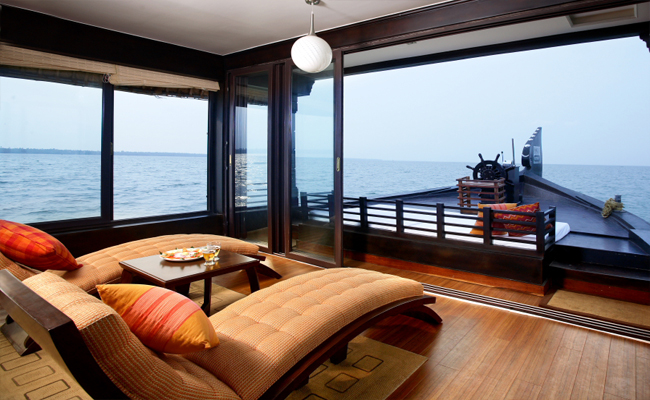 Premium House Boat-Drawing Room
Premium houseboats provide all the modern facilities of a premium hotel. Ac Bed room with attached toilet, sit out and sundeck area and separate kitchen. Ac will be operated round the clock. Some of the premium houseboats have Jacuzzi shower panel, Indian, Mughali and Chinese food menu. Most of the premium category house boats have upper deck and glass wall. Staff includes Chef, Captain and Driver.
ALLEPPEY HOUSE BOAT TARRIFF
Alleppey Boat Ride charges vary according to season. Rates of Half day cruise and Full day cruise are different. Boats are also available on hourly rates basis during off season periods
Deluxe 1 Bed Room House Boat Tariff for 2 persons starts from Rs-6500/- in Off Season and Season Tariff Starts from Rs- 8000. Tariff includes 1 night stay and boat cruise for 3 to 5 hours and all meals during the stay. Alleppey House Boat rates are different in each season. October to April is the season and December 15th to January 5th is High peak season. Off season is during monsoon from April to September.
SHARING HOUSE BOAT TARRIFF
Budget travelers can opt for sharing House Boat option. House boats on sharing basis cost less than individual house boats. Room Tariff in a Sharing Houseboat is around Rs4500/- in off Season and 5500/- in Season.
HOUSE BOAT RIDE DRUING NIGHT
As per Government rule Houseboats are not permitted to operate during night. The boat will be stationed for overnight stay from 5.30in the bank of the backwater canal and night cruise is not permitted.
HOUSE BOAT MENU
Vegetarian and Non Vegetarian Kerala, North Indian cuisine are included in Lunch & Dinner. Chinese and Jain food are also served if requested in advance. Tourists can buy fresh fish like Jumbo prawn and Crabs from the local fisherman and houseboat chef will prepare and serve it in the houseboat. Evening Tea include snacks and Breakfast include Kerala Dishes like Appam and Stew, Idli Sambar and North Indian dishes like Aloo Poori, Parantha, Bread, Omelet etc.
CHEAPER OPTIONS TO ENJOY BACKWATERS
Staying in the Houseboat and exploring the scenic backwaters of Kerala is truly a once in a life time experience. But there are many cheaper options to explore the backwaters
1. Shikara Ride in Alleppey Backwaters
A Shikara is a type of small countryside boat which can accommodate Maximum12 People. Shikara ride is less expensive and an excellent option If you are not interested in staying in House Boat. As House boats can't pass through the small canals of backwaters Shikara ride is best suitable for getting a wonderful view of Kerala village Life from close quarters. Shikara cruise provides an opportunity to move away from the crowd and venture farther along the waterways to see the different life style of nearby villagers. Shikara package includes a shikara ride in backwaters and a visit to the nearby Alappuzha village to witness or learn the art of Coconut tree climbing from the locals. Rides are available both in Alleppey and Kumarkom. Cost of Shikara boat ride in Alleppey is much cheaper than Kumarakom and other places. Advance booking is not required for Shikara rides as the boats are easily available on the spot.
Alleppey Shikara Boat Ride Rate per person: Rs-500/Hour
Kumarakom Shikara Ride Rate per person: Rs-550/Hour

Alleppey Shikara Cruise
2. Motor Boat Cruise & Rates

Tourists Enjoying Motor Boat Ride
Motor boats are completely different from House Boats and used only for cruise. Motor boat ride is one of the cheapest options to enjoy backwaters. Alleppey and Kumarakom Boat Rides start around 11 Am. The Cruise includes welcome drink and snacks.
Alleppey Motor Boat Cruise Rate per person: Rs-600/Hour
Kumarakom Motor Boat Cruise Rate per person: Rs-600/Hour
3. Canoe Ride in Backwaters

Canoe Ride in Alleppey
Forget the Houseboat stay and take canoe to experience backwaters in a different way. Explore Kerala backwaters and see the real life of villagers from close quarters as canoe is able to move through the narrow lines of village waterways. Canoe is the oldest mode of water transport and the cheapest option to enjoy the backwaters in Kerala. Canoe ride offers the ultimate backwater experience in Kerala. Canoe can carry maximum 3 passengers and ride is available from 7 Am to 6 Pm. If Canoe Ride Rate: Rs-600/- Hour per
4. See Kuttanadu Boat Cruise for Tourists
Kuttandanu area is famous for its vast paddy fields and located in Alappuzha and Kottayam Districts of Kerala. The entire region of Kuttanandu is known around the world for its farming below sea level. See Kuttandau Ferry service is the cheapest passenger-Cum-Tourist Boat Service started by Kerala State Water Transport Department. This low cost Boat service allows tourist to enjoy the beauty and greenery of Kuttanadu at the most economic rates. The upper deck of the 90 Seater boat is reserved for tourists and lower deck for normal passengers. Upper deck has mini eatery and seating arrangements. There are 13 services and the first service starts at 10.45 Am and the last service at 8.45 pm. One way trip takes an hour and the boat starts its return trip immediately so that tourists can make it a 2 hour return trip. See Kuttanadu is the cheapest option to experience the Kerala Backwaters in a natural setting.
Tickets rates are Rs-10 for lower deck and Rs-25 for upper deck.
Duration – 2 Hours- Return Trip
Starting point- Alleppey Jetty-Bus Stand
Finishing point- Kainakary jetty
http://swtd.kerala.gov.in/pages-en-IN/seekuttanad.php
Distance from Different places to Alleppey
Distance from Cochin to Alleppey : 57 km/2 Hours
Distance from Munnar to Alleppey : 160km /4 Hours
Distance from Thekkady to Alleppey : 138 Km/ 2.50 Hours
Distance from Kovalam to Alleppey : 161 km/3 Hours
Distance from Kumarakom to Alleppey: 32 km/45 Minutes
(Distance May Vary From Point to Point)
5. Alleppey Backwater Day Trip Charges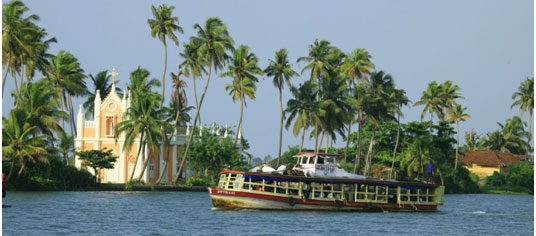 Alappuzha Houseboat Rates
Alappuzha houeboat cruise attract hundreds of travelers from all over the world. The rate for 1 Bedroom exclusive houseboat in Alappuzha starts from Rs 6700 per day and the price includes all meals and tea with snacks. The rates vary with the season and category. Price of Alleppey day cruise is different from Houseboat packages. Alappuzha houeboat cruise attract hundreds of travelers from all over the world. A cruise on the serene backwaters of Alappuzha would truly be a thrilling experience for every traveler.
If you are looking for the cheapest motor boat ride in Alleppey/Kumarakom stretch of Kerala backwaters then go for the Govt run Kumarakom- Muhamma Ferry Boat service. The state government has kept the Alleppey boat ride charges at a bottom rate as this service is meant for the inhabitants of nearby island. Backwater trip service is available for cruises every day. Upper decks are available in most of the boats. No Advance booking is required for this pleasant boating experience, if you do not want a return journey through boat, you can avail the auto or bus service at Muhamma. Sailing along in a local ferry watching local life is one of the most low cost boat trips in Kerala Backwaters.
Alleppey Boat Ride Charges:
Duration of Journey- 30 Minutes
Timings- Starts at 5.45 Am. Last service at 6.45 Pm
Booking- No Advance booking is required.
Rate- Rs-20/One Way
Also Read : Alleppey Tour Packages
Get Free Tour Plan & Quote for Your Kerala Trip