KANYAKUMARI TOURIST PLACES
Vivekanand Rock Memorial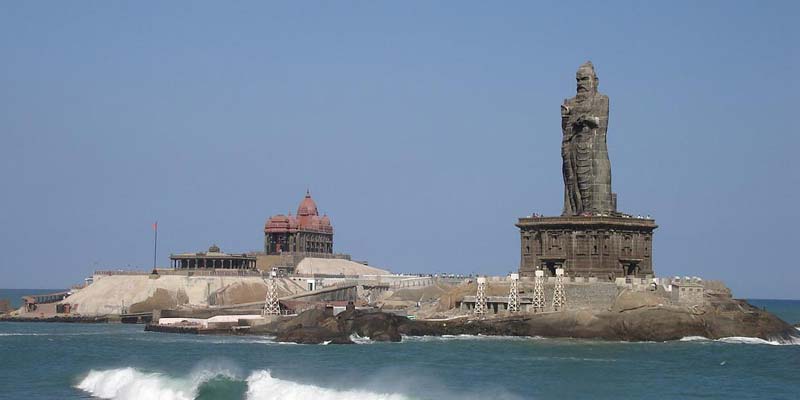 Kanyakumari is the southernmost end of India, located in the state of Tamilnadu around 90 kilometers away from Trivandrum. It is one of the most exotic tourist places to visit in south India. If you are travelling up to Trivandrum then we recommended visiting this place. Kanyakumari beaches are famous for watching both sunrise and sun set.
The Most famous place to visit in Kanyakumari is the Vivekananda Rock Memorial built in honor of Swami Vivekananda –the great social reformer who fought against religious inequality in India. The memorial can be reached on a ferry and has a temple and meditation hall which provides a serene opportunity for meditation in the background of fast blowing winds and vivid colors of Seas. The place is well maintained, rejuvenating and gives a positive energy. The feel of gentle sea breeze and sea waves smashing the hard rock is awesome.
List of Popular Kanaykuamri Attractions to Visit
1.Vivekananda Rock Memorial
It is believed that Swami Vivekanda used to mediate on this rock. It is a popular tourist place and definitely one of the most important places in Kanyakumari to visit. It is frequented by several thousand domestic & international tourists every year. This rock memorial is located 100 meters away from the shore and can be reached by ferry services.
2.Kanyakumari Temple
Better known as Bhagavaty Amma temple, this temple is famous for its unique design and flow of tourists
3.Suchindrum
A 134 feet ancient temple built in Dravidian style .it visited by several thousands of people
4.Padmanabhapuram Palace
Constructed in 1601 AD This palace was the residence of Travancore kings. The fort has many adjoining buildings ,Chamber of King's council, museum and halls for performances
5.Thiruvalluvar Statue
This 133 feet statue was built in the memory of greatest poet of Tamil literature in 2000. It is designed and decorated with 10 elephants facing to different directions.
How to Reach Kanyakumari
By Air
Nearest Airport is Trivandrum (Thiruvananthapuram) International Airport situated at a distance of about 65 Km from Kanyakumari. Cab operators in the Airport charges from INR to 1700 Per Cab.
By Train
Kanyakumari is well connected by Train from almost all major cities of South India. Name of the Railway Station is Kanyakumari and the Station Code is CAPE
By Bus
Place is well connected by Kanyakumari Road Transport Corporation Buses from all South Indian Cities
Distance from Different places to Kanyakumari By Road
Trivandrum to Kanyakumari : 90 km/2 Hours
Cochin to Kanyakumari : 294 km/6 Hours
Munnar to Kanyakumari : 336 km/6.45 Hours
Thekkady to Kanyakumari :349 km/6 Hours
Alleppey to Kanyakumari: 237 km/4.45 Hours
Kovalam to Kanyakumari : 82 km/1.45 Hours
(Distance May Vary From Point to Point)
Ferry Charges
You have to take ferry service to reach the Rock from Kanyakumari Jetty. Ferry charges are INR- 37 per Head for one way. Premium tickets are available at higher rates around INR 150 per Head.
Vivekananda Rock Memorial Entry Charges
INR- 20 per Head
Timings of Vivekanada Rock Memorial
Memorial is open All Days from 8.00 AM to 4.00 PM
Ferry
Things to Do
Meditate in Hall
Buy Books
Feel the Sea breeze and sea See View
Experience Ferry Ride
Watch the Sunset
Other Things to Remember
Shoes are not permitted inside the Meditation Hall. Shoe racks are available.
Snacks and Water Bottles are not available in the area but drinking water is available.
The memorial is a No litter area.
Switch off your mobile phone in the Meditation Hall.
Address of Vivekananda Rock Memorial –Kanyakumari.
Vivekananda Rock Memorial & Vivekananda Kendra, Jetty, Kanyakumari, Tamil Nadu 629702, India Contact Number +91-4652-247012.
Also Read :Kanyakumari Tour Packages