Kochi Tourist Places
Kochi also known as Cochin is the business capital of Kerala with a population of around 2.5 million it is a part of Ernakulam District in Kerala. Most probably Kochi will be the first tourist place you will be landing in Kerala. Kochi has a lot of tourist places which includes Marine drive, Chinese fishing net, St Francis Church, Fort Cochin, Dutch palace, Jewish synagogue, Cherrai beach etc.
List Tourist Places In Kochi(Cochin)
1. Sagara Rani Boat cruise in Cochin
Boat Cruise in Cochin offered by Sagara Rani, a prestigious luxury boat owned and operated by Government owned Kerala Shipping and Inland Navigation Corporation Ltd is a very good option for travelers visiting Kochi. The cruise starts from Marine drive near high court junction, a popular promenade facing the Kerala backwaters. Although private operators offer luxury cruise at a reasonable price, Kochi cruise ship service offered by Sagara Rain is the ideal option for a perfect get away from the madness for the city and relax with dear ones.This family friendly Air conditioned cruise has a well equipped conference hall styled lower deck which is ideal for families and children to rest.

Ticket Rates
Sun Set Cruise : Rs- 350 Per Person
Timings : 5.30 Pm to 7.30 Pm
Lunch Cruise : Rs-250 Per Person(Group Rate)
Lunch Cruise : 11 Am to 1 Pm
Trip Duration= 2 Hours.
All Cruise trips are organized with on board entertainment with light refreshments Including the service of an experience guide. This luxury boat offers a wonderful experience of cruising the Arabian sea for travelers visiting Kochi Tourist places.
Route
Marine Drive/High Court Junction
Goshree Bridge
Bolgatty Palace
Wellingdon Island
Vallarpadam Bridge
Vallarpadam Container Terminal
Vypin Ferry
Cochin ship yard
Chinese fishing Nets
Anchored Luxury Ships
2. Cochin Backwaters Tour
Cochin is popular as one of the finest natural harbors in India. The place is a perfect blend of modern and traditional of intense nostalgia and high revelry. Kochi backwater tour is one of the most popular attractions for travelers visiting Kochi. Kochi House boat day trip is one of the thrilling part of Kochi tour and backwaters of Kochi has been acknowledged as the must visit tourist point during your trip to Cochin.
Cochin is sprinkled with a number of islands which are well connected by ferry services. Enjoy the scenic beauty of this amazing city with a day trip in Boat by availing the famous Kerala Boat Cruise service from Cochin. Kochi is the perfect location for enjoying cheap backwater tour in the state. The price of Kochi Backwaters day tour price is much cheaper than the price of Alleppey and Kumarakom backwater tours.
The unique Chinese fishing nets silhouetted against the backdrop of the setting sun and flanked by the swaying coconut palms backwaters make for a breathtaking spectacle. Many backwater cruises commence and end in Cochin. Kerala backwater tourist magnetism for Cochin can be cherished while staying at a hotel or by staying in the houseboats while on Cochin backwater tours.
3.Cochin Marine Drive( Marine Drive Kochi):
Marine Drive is One of the beautiful walk ways in the Heart of the City facing backwaters. It is a famous hangout of the locals and considered as one of the best Kochi tourist places. Best time to visit the Cochin (Kochi) Marine Drive is evening after Sun Set. Marine Drive offers options for Boat Trips to nearby islands and Back water Canal Tour.
Cochin Marie Drive

Entry –Free
Marine Drive Backwater Canal Tour Timings
Full Day Tour 8:15 Am to 5:30 Pm
Half Day Tour 8:15 Am to 1:00 Pm
Sun Set Tour (Seasonsal) 5.30 Pm to 7.00 Pm
Marine Drive Backwater Canal Ticket Fare
INR 850/- Person for Full Day Tour
INR 600/-Person for Half Day Tour
INR 300/- Person for Sun Set Tour
4. Chinese fishing net:
In this place you can see the unusual method of fishing using Chinese nets. The interesting fact is that all the fishing activities take place on the shore. This ancient method of fishing attracts a lot of travelers to this tiny tourist place in Kochi. You can click pictures of sunset from here.
Entry-Free
Chinnese Finishing Net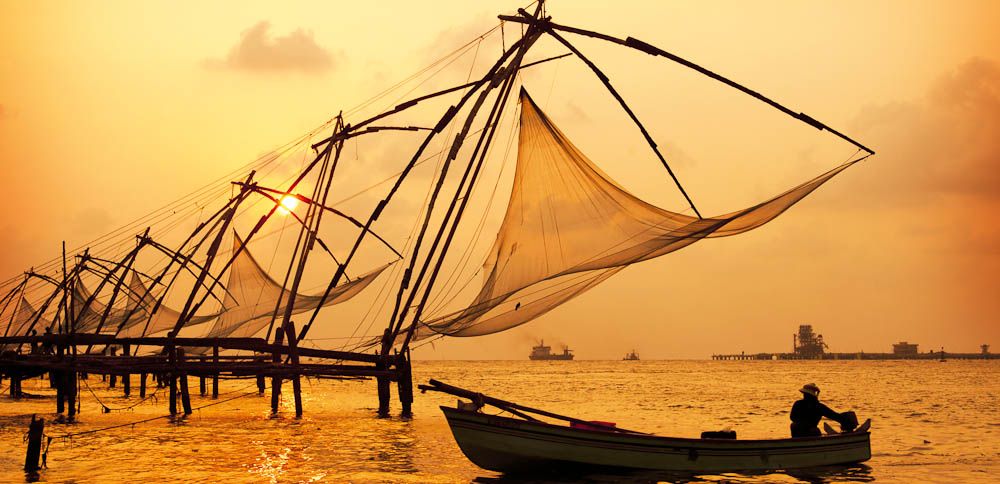 5. St Francis Church:
This famous church in Kochi was constructed by the Portuguese in 15th century. This church was later handed over to the British. The area around this church is knows as church road.
Entry is free and open from 7 Am to 7 Pm
6.Dutch Palace:
Known as Mattanchery Kottaram ,this palace was built by the Portuguese in 1568 as a gift to the king of Kochi. This palace was used for the coronations of Kochi Kings. Costumes of kings and swords are displayed in the palace.
Entry Fee- INR -25 for Indians and 100 for foreigners
Timings - 10 Am to 5 Pm. Saturday to Thursday
7.Cherrai Beach:
Situated 25 Kms away from Kochi city it is Known as a swimming friendly beach as waves are not strong and shallow. The Cherrai beach combines backwaters and beach, a very rare combination.
Entry –Free
8. Jewish synagogue :
Situated 3.5 Km away from Kochi city is a unique example of Kerala's religious freedom and culture. This area is better known for the Jewish Synagogue built by Cochin Jewish community on the land gifted by King Rama Varma in 1568. Mattanchery palace temple and Jewish Synagogue share a common wall and this area is popularly known as Mattanchery Jew Town.
Entry – 10 Am to 5 Pm
Entry Fee- INR- 5
9.Athirapally Vazhachal waterfalls:
it is the most famous and largest water fall in Kerala and the only place where you can find the four South Indian species of hornbills
Distance from Different Places to Cochin (Kochi)
Cochin to Munnar : 127km/4.30 Hours
Cochin to Thekkady: 174km/5 Hours
Cochin to Alleppey: 57km/2 Hours
Cochin to Kovalam: 218km/5 Hours
Cochin to Athirapally Waterfall : 72Km/2 Hours
Cochin to Cherrai Beach : 40 Km/1 Hours
(Distance May Vary From Point to Point)
Also See: Kerala Hill Stations
Also Read :Kochi Tour