TOURIST SPOTS IN KERALA
This southern coastal state is home to some of the famous tourist spots in Kerala for domestic and International tourists. Kerala ,widely known as "God's Own Country ' is one of the most beautiful tourist spots in India As this southern states is adored by immense natural beauty with ever green forests ,serene streams, canals ,lakes and its unique house boats. Kerala is a perfect tourist spot for all kinds of tourists as it satisfy variety of travellers with different options like village tourism, spice plantations visits, coconut tree climbing, beach tourism, house boat rides and house boat stay in famous backwaters, elephant rides and unique festivals and dishes attracts tourists from all over the world. Kerala is the most famous tourist spot in the countrywith its own cultural traditions .it is a peaceful place with highly educated people and attracts tourist from all over the world. Its natural beauty, rich culture, educated and friendly people make Kerala the perfect place of tourist interest for families, Honeymooners and solo travellers. Given below is the district wise list of all famous tourist spots in Kerala State.
LIST OF FAMOUS TOURISTS SPOTS IN KERALA
Kerala is blessed with a number of tourist attractions and best place to visit if you are planning your holidays in India. With a number of amazing tourism destinations like Alleppey backwaters, Kovalam Varkala beaches, Munnar Thekkady hill stations and other flawless slope stations Kerala is a paradise for every tourist. Kerala is one of the few tourist places in India which can be visited any time during the year. Known for its backwater tourism, amazing hill stations, coconuts farms and paddy fields, it is perfect holiday place for peaceful family holidays. The state offers various adventure activities like bungee jumping, paragliding and much more. Above all educated and friendly locals make Kerala one of the must visit tourist attractions in India. Kerala tourist attractions are breathtakingly beautiful and attract millions of tourist every year. It is not surprising that Kerala has been listed among the 50 must visit family destinations in the world by the Lonely Planet magazine.
Wayanad Hill Station

1.Museum, Zoo
2.Padmanaba Swami Temple
3.Ponmudi
4.Vizhinjam
5.Neyyar Dam
6.Kovalam
7.Poovar Beach
8.Akkulam Tourist Village
9.Priyadarshini Planetarium
10.Kottur Elephant Park
Famous Tourist Spots in Kollam
1.Thenmala Eco Tourism
2.Neendakara
3.Palaruvi Waterfall
4.Ashtamudi Lake
5.Shasthankota Lake
Best Tourist Spots in Pathanmthitta
1.Gavi Eco Tourism
2.Panthalam Palace
3.Shabarimala
4.Konni Elephant Park
5.Valppara
6.Kakki
7.Kaviyoor
Top Tourist Spots in Alleppey
1.Kuttanadu
2.Alleppey Beach
3.Krishnapuram Palace
4.Pathiramanal
5.Thannirmukam
6.Backwaters in Alleppey
Best Tourist Spots in Kottayam
1.Kumarakom Backwaters
2.Vempanatu Lake
3.Elaveezham Poonchira
Tourist Spots in Idukki
1.Munnar
2.Eravikulam
3.Chinnar
4.Vagamon
6.Idukki Dam
7.Thakkadi
8.Parunthumpara
9.Mattupetty
10.Pallivasal Dam
Famous Tourist Spots in Ernakulam (Kochi)
1.Mattanchery
2.Fort Kochi
3.Wellington Island
4.Bolgatty Palace
5.Kodanau Elephant Park
6.Kalady-Birthplace of Adi Shankaracharya
7.Thattekkadu-Bird Sancturay
8.Thripunithara Hill Palace
9.Wonderla Amusement Park
10.Kerala Folklore Museum
Known Tourist Spots in Thrissur
1.Guruvayoor Temple
2.Athirappally Waterfall
3.Vadakumnath Temple
4.Zoo and Museum
5.Peechy
Tourist Spots in Palakkadu
1.Palakkadu Fort
2.Sholayar
3.Kalpathy
4.Nelliyampathy
5.Silent Valley
6.Malampuzha Dam
Tourist Spots in Malappuram
1.Nilampur
2.Adiyan Rock
3.Kadalundi Bird Sanctuary
4.Kozhippara Waterfalls
5.Kakkadam Poyil- Adventure Sports
6.Biyam Lake
Tourist Spots in Kozhikodu
1.Kozhikodu(Calicut) Beach
2.Beppur Fort
3.Kallayi River
4.Kalipoika Boating
5.Craft Village
Tourist Spots in Waynadu
1.Moothanga
2kurava Island
3.Banasura Sagar Dam
4.Soojippara Waterfall
5.Edakkal Cave
6.Thuzharagiri Waterfalls
Tourist Spots in Kannur
1.Ezhimala
2.Paithalmala
3.Payyambalam Beach
4.Mahi
5.St Anchelo Fort
6.Arakkal Museum
7.Mushappilangadu Drive in Beach
8.Ettikkulam Beach
Top Tourist Spots in Kasarkodu
1.Bekkal Fort
2.Kottappuram
3.Veeramala
4.Hosdurg Fort
5.Adnanthapuram
Kerala Road Map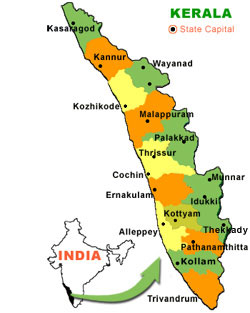 Kerala Tourism Map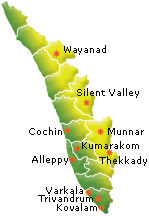 Also Read : Kerala Backwater