KERALA HILL STATIONS
Kerala Hill Stations are integral part of Kerala tourism packages. The state is blessed with many tranquil hill stations making it a perfect place to escape from the increasing summer onslaught. Surrounded by the picturesque greenery of Western ghats, Kerala Hill Station packages are most sought after hill station packages in South India. We provide you the list of Top Hill Stations in Kerala.
Periyar River
Munnar Hill Station
Munnar Hill Station

Hill station packages in Kerala would be incomplete without visiting the most popular hill station Munnar, a Place of serene greenery with aroma of spices and The No 1 summer hill station in Kerala which attracts a lot of domestic and international travellers. Located in the less populated serene region of western ghat Munnar is definitely worth a place to visit. Read More..
Vagamon
Vagamon Hill Station

Flowery bowery Vagamon offers turbulence torn city dwellers much coveted peace and spirtual restoration. A summer tourist spot in the border area of Idukki and Kottaym districts of Kerala. It is situated 1200 meters above sea level. It is a beautiful hill station in Kerala covered with series of hill rocks, waterfalls and valleys.
Vagamon Places to Visit: Waterfall, Rocky out crop, Wild orchid and lake are the important places to visit in Vagamon.
How to Reach Vagamon :Vagamon is accessible by road from Cochin . Cochin (Kochi) to Vagamon distance is around 98 Km. Kottayam to Vagamon distance is 65 Km.
Vagamon Weather:Vagamon has a cool weather. Average Temperature is between 10 to 22°C.
Best Time to Visit Vagamon:April, May & June are the Best time to visit vagamon. Months of February and March are also considered suitable for visiting Vagamon Hill Station
Ponmudi
Ponmudi Hill Station

Ponmudi is a small picturesque Hill Station in Kerala. This small hill station is spread on few hill tops surrounded by greenery and heavy rocks. It is located 54 Km away from capital city Trivandrum at 950 meters above sea level. Its closeness to Trivandrum makes this Hill station a sought after hill station in around South Kerala. Drive through the Road leading to the hill station is very interesting with many hairpin bends. It is an ideal place for natural lovers.
Ponmudi Places to Visit
The best places to visit in Ponmudi are
1. Menmutty Falls,
2. Peppara Wildlife Sanctuary
3. Agasthyamalai Biosphere Reserve
How to Reach Ponmudi
Ponmudi is easily accessible by road from Trivandrum. It is 54 Km away from Thiruvananthapuram –the capital city of Kerala. It takes around 1 hours 40 minutes to reach this hill station from Thiruvananthapuram.
Best Seasons to Visit Ponmudi
The best season to visit Ponmudi is from February to April and October to December.
Thekkady
Thekkady Boating

Thekkady is Famous as a Hill Station and Wildlife destination situated near Munnar, hence visitors to this place include Munnar in their tour itinerary as this hill station package is popularly known as Munnar Thekkady packages. This quaint little hill station is a perfect place to visit along with Munnar.Read More..
Wayanad
Wayanad Hill Station

This unexplored hill station of North Kerala attracts around 50000 domestic tourists every year. This hill station is very close to Karnataka state and hence it is a popular tourist destination for the people of Karnataka. It could be the aroma of spices or purity of mountains the place is sure to attract you with a wide range of emotions. This North Kerala Hill station is a Perfect place which enables you to be with the rhythm of your own life.
Popular Tourist Places in Waynadu are Chembra Peak, Neelimala, Banasura Sagar Dam,Chethalayam, Pakshipathalam and Meenmutty waterfalls.
Gavi Eco Tourism
Gavi is a famous Hill station and an Eco tourist centre in Pathanmthitha District of Kerala India; it is a paradise for all nature lovers. This place is for widely known for its wildlife and a popular tourist destination for bird watchers with more than 270 species of birds including woodpecker and kingfishers. This tourist centre is famous for Eco tourism and Adventure tourism and became more popular after "Alistair International listed Gavi among the leading eco tourist spots in the world. Gavi is a part of Ranni reserve forest and Periyar Tiger reserve forest.
Entrance fee:INR -25/Person and 50/Vehicle
Camera Fees:25 & 100 for Video Camera
Entry passes can be obtained from forst check post at Vallkkadavu on the way to Gavi.
Best Sesaon to visit: October to March
Location:The place is 41 km from Kumily in Kerala.
By Air: 185 Km From Cochin International Airport & 190 Km from Madurai Airport in Tamilnadu.
By Rail:Nearest railway station is Kottayam, which is around 115 Km away.
By Road:Nearest Bus Stop is Vandiperiyar ,around 17 Km from Thekkady in Kerala.
Also Read : Kerala Places to Visit
Also Read : Munnar Tour Packages
Also Read :Munnar Thekkady Package
Kerala Road Map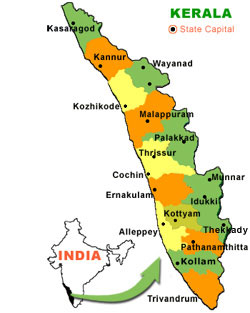 Kerala Tourism Map