KERALA PLACES TO VISIT
Travellers searching in Kerala for Places to visit are often confused by the choice the state offers them. Kerala is blessed with variety of tourist spots .Munnar Hill station is a perfect summer holiday location for domestic travellers and Beaches like Kovalam,Cherai ,Marai and Papanasham are best for beach lovers from all over the world. Kerala Backwaters is world famous for house boats and backwater cruises. Whatever be the choice there are many places in Kerala worth a visit. Unexplored Tourist places like Gavi & Idukki are some of the best Places to visit in Kerala. For international travellers, Kerala backwaters in Alleppey and Kumarokom are considered as the best tourist places in Kerala worth a visit.
Periyar River

Also See: How to Reach Kerala
Kochi Tourist Places
Kochi also known as Cochin is the business capital of Kerala with a population of around 2.5 million it is a part of Ernakulam District in Kerala. Most probably Kochi will be the first tourist place you will be landing in Kerala. Kochi has a lot of tourist places which includes Marine drive Read More..
Cochin Backwaters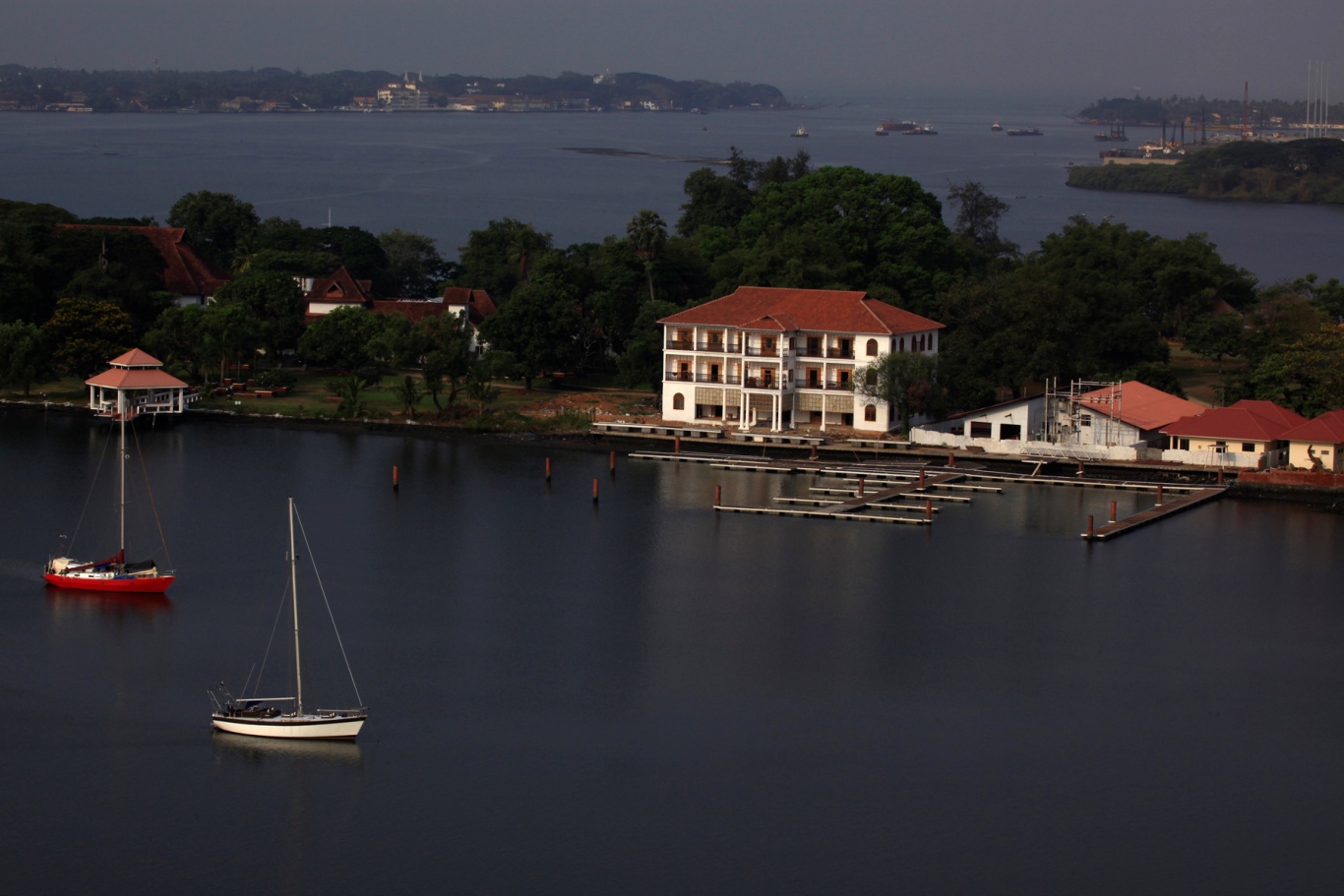 Munnar Tourist Places
Munnar is a must see tourist place if you are visiting Kerala. Munnar is a hill station with fascinating landscapes and one of the most beautiful places in Kerala to be visited. If you have plans to visit Munnar then stay at least for 2 nights to enjoy Waterfalls, rolling hill and more than a dozen of places to see near Munnar Read More..
Munnar Hill Station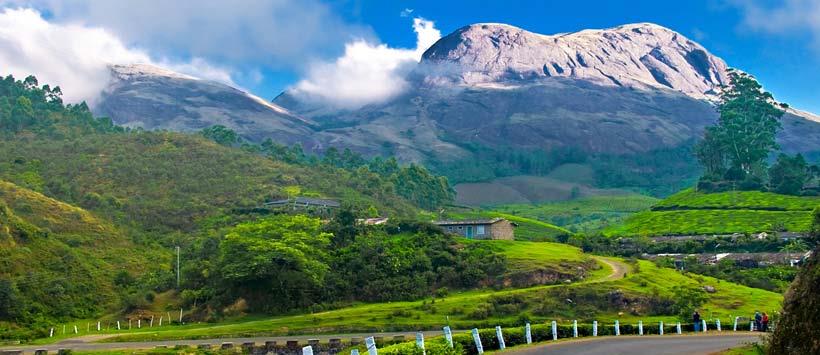 Thekkady Tourist Places
Thekkady is a Hill Station the Best place to visit if you are interested in wildlife & ecotourism activities. Munnar Thekkady package is suitable for visiting Thekkady along with Munnar. Main attraction is Thekkady Boating Read More..
Thekkady Boating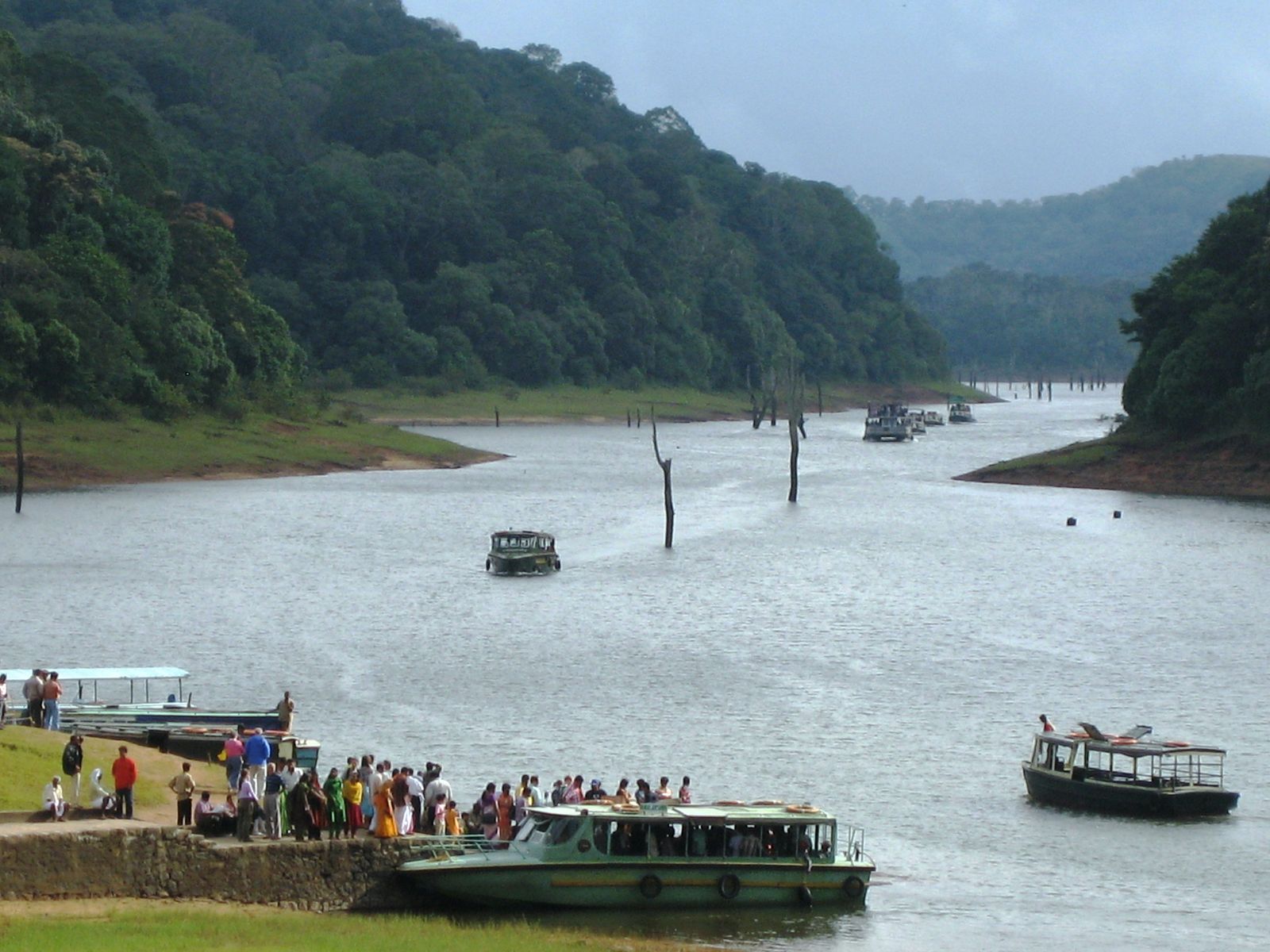 Kerala Backwaters
National Geographic Channel has listed Kerala backwaters among the 50 destinations of a life time. Backwaters of Kerala is the unique and most important aspect of Kerala tourism Packages. It is a unique network of fresh water lakes, small rivers, lagoons and canals meshed with small islands surrounded by coconut trees. Read More..
Alleppey Backwaters
Alleppey Tourist Places
Kerala backwaters and Bird Sanctuary are the most popular Alleppey Tourist Places. A cruise is in Kerala boat house is a different experience and you shouldn't miss. House boat gives a unique experience than staying in hotels but if you are short of time you can adopt for a day trip in House Boat which is for 4 hours. Alleppey has good hotels and resorts too Read More..
Kerala House Boat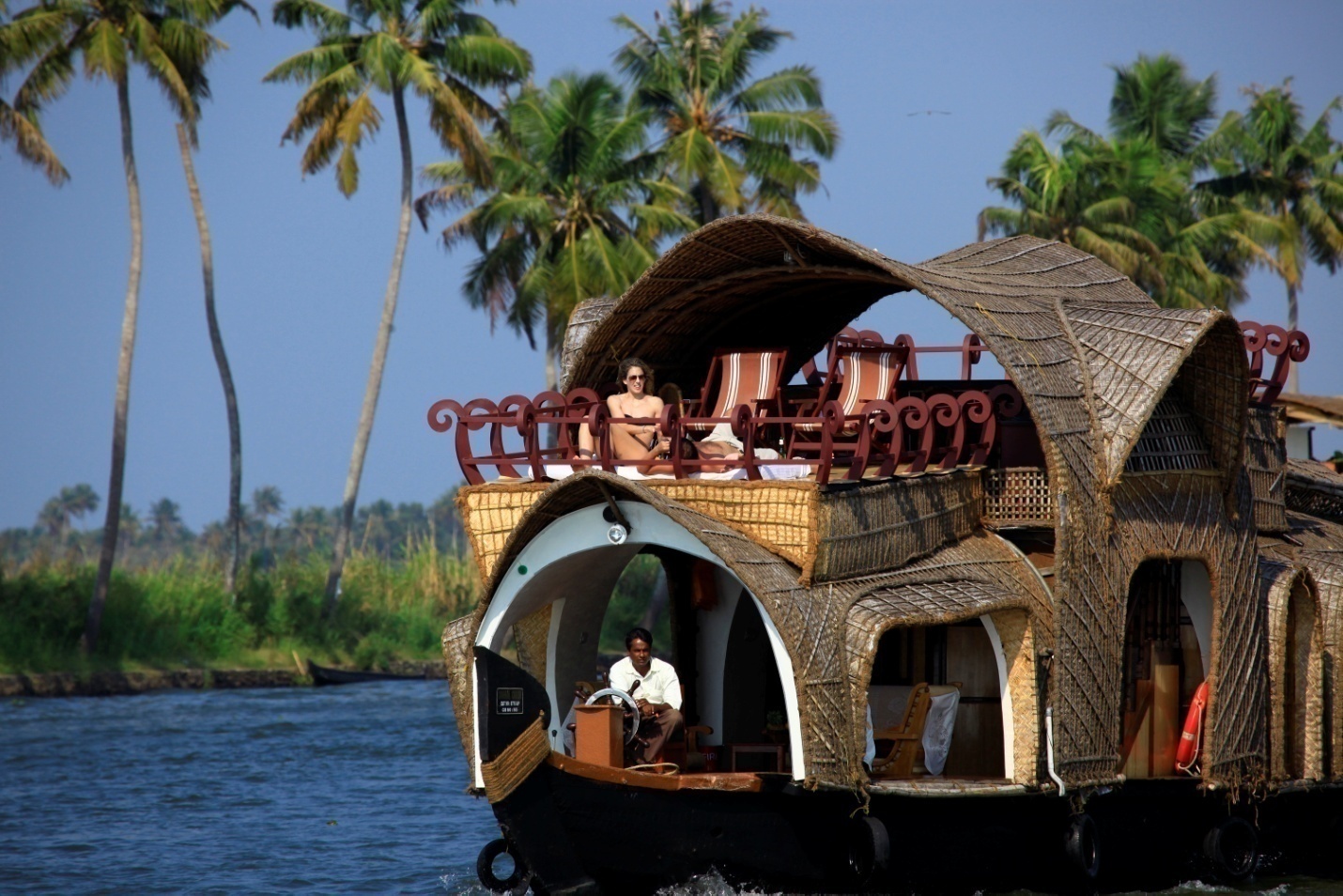 Tourist Places in Trivandrum
Trivandrum also known as Thriruvanthapuram is the capital city of Kerala. There are so many tourist places to visit in Trivandrum. If you are Planning a visit to Trivandrum, it is better to stay in Kovalam which is 17 kilometres away from Trivandrum. The Main tourist attractions in Trivandrum are Padmanaba swami Temple and Kovalam beaches. From Kovalam you can go for a sightseeing of Trivandrum Read More..
Kovalam Beach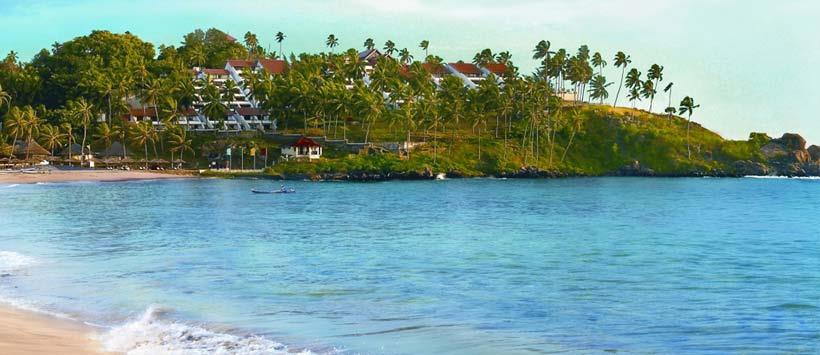 Kanyakumari Places to Visit
Kanyakumari is the southernmost end of India ,located in the state of Tamilnadu around 90 kilometers away from Trivandurm. it is one of the most exotic tourist places to visit in south India. If you are travelling up to Trivandrum then we recommended visiting this place. Read More..
Vivekananda Memorial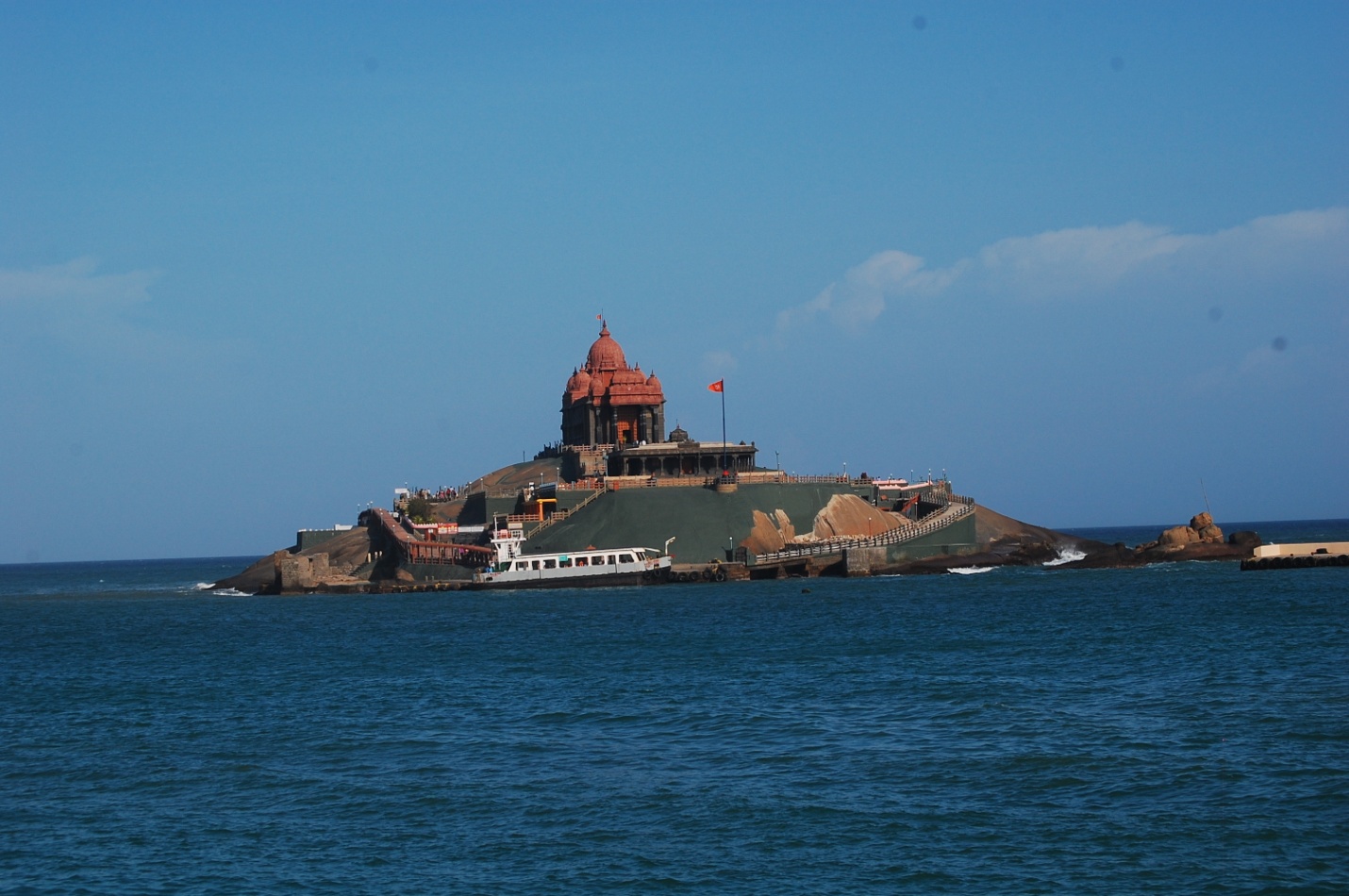 Tourist Places in Waynad
Wayanad is a part of North Kerala, Approximately 300 Km from Cochin. A minimum stay for 3 Nights is required to see all tourist places in Wayanad. This Tourist Destination is situated far from other famous tourist destinations of Kerala. Read More.
Waynad Hill Station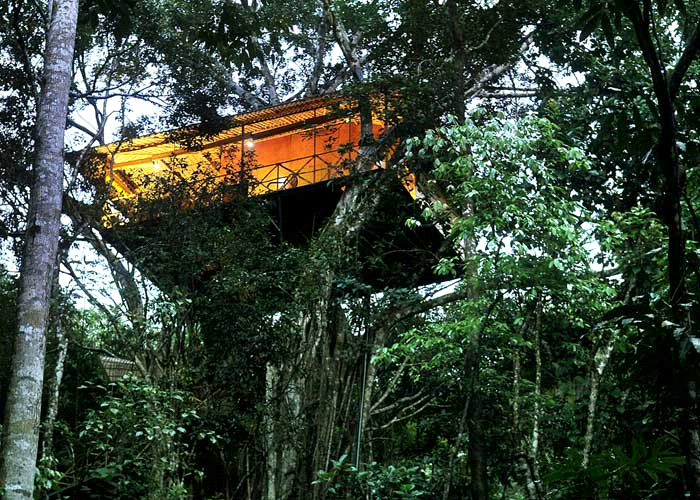 Kakkathuruthu (Tiny Crow Island) in Alleppey
Kakkathuruthu(Tiny Crow Island) is a tiny spectacular island in Kerala backwaters located 17 Kilometers away from Kochi in Alappuzha district of Kerala. Nestled along the Kerala coast and surrounded by Vembanad Lake this island is a haven for birdwatchers and connected to the other areas only by traditional boats. This tiny island has been listed in the National Geographic's 'Around the World in 24 Hours' worthy spots across the world.
http://www.nationalgeographic.com/travel/features/around-the-world-in-24-hours/

Kutta Vanchi (Coracle Boat) Journey in Konni Kerala
Coracle Boat or Bowl Raft (Kutta Vanchi in Malayalam Language) is a round bamboo raft with a maximum capacity of 5 persons. Coracle rafting is arranged in Kallar River near Konni in the Pathanamthitta district of Kerala known as the hub of eco tourism in Kerala. The ride promises a thrilling experience to tourists as the journey is conducted through the lush green Achenkovil reserve forests away from Alleppey backwaters. This place is famous as the eco tourism spot in Kerala and offers a vivid experience to the travelers visiting Kerala. Main attractions are modern elephant cage, (Closed on Monday) biogas plant, Bitterly Park, Bamboo cottages, canopy walkways and Children Park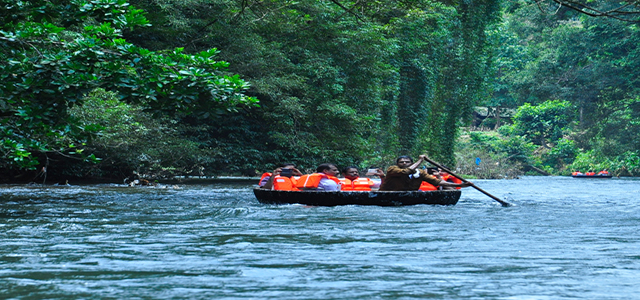 Tourists enjoying Coracle Boat ride
Ride Timing - Open on All days including Sundays and Holidays Route of Coracle Ride/Kottavanchi Ride- Starts from Mundommoozhy and passes through Thottikayam, Idikallu, Thattathikayam and end in Irattayaar. Ride Charges- Coracle Rafting charges starts from INR-200/Hour. Tickets for Rafting are available at Konni Eco Tourism Centre in Pathanamthitta. For more Information Contact:Eco Tourism Office, Konni. Kerala Ph: +91 468 2247645.
Jatayu Nature Park- The Latest Tourist Attraction of Kerala.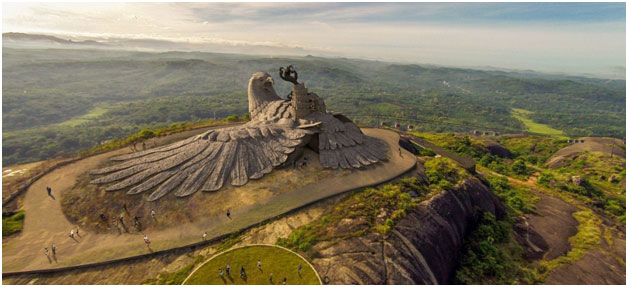 Jatayu Nature Park, a much awaited tourism attraction in Kerala is named after the mythical bird from Ramayana -Jatayu, which tried to rescue Sita from Ravana. This popular nature park project located in Chadayamangalam village in Kollam district houses the world's largest bird sculpture. Read More
Kerala Road Map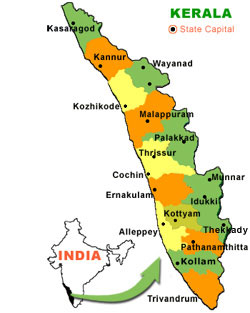 Kerala Tourism Map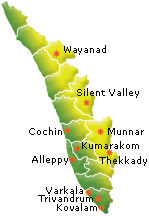 Distance from Different Places to Cochin (Kochi)
Cochin to Munnar : 127km/4.30 Hours
Cochin to Thekkady: 174km/5 Hours
Cochin to Alleppey: 57km/2 Hours
Cochin to Kovalam: 218km/5 Hours
Cochin to Athirapally Waterfall : 72Km/2 Hours
Cochin to Cherrai Beach : 40 Km/1 Hours
(Distance May Vary From Point to Point)
Also See : Best Seasons to Visit Kerala