KANYAKUMARI PLACES TO VISIT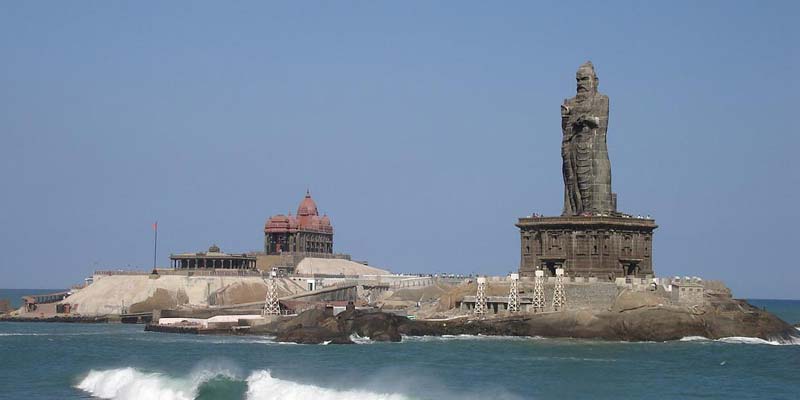 Kanyakumari is the southern most end of India ,located in the state of Tamilnadu around 90 kilometers away from Trivandurm. it is one of the most exotic tourist places to visit in south India. If you are travelling up to Trivandrum then we recommended visiting this place. Kanyakumari beaches are famous for watching both sunrise and sun set. List of popular Kanaykuamri attractions to Visit.
Poovar beach is famous for its estuary, where backwater and sea meet. You can plan a day trip from Kovalam to Poovar or stay for one night at Poovar if time permits.
VARKALA BEACH also known as Papanasham Beach is one of the best beaches in India. A place that you must visit during your trip to Kerala.
1.Vivekananda Rock Memorial
It is believed that Swami Vivekanda used to mediate on this rock. It is a popular tourist place and definitely one of the most important places in Kanyakumari to visit. It is frequented by several thousand domestic & international tourists every year. This rock memorial is located 100 meters away from the shore and can be reached by ferry services.
2.Kanyakumari Temple
Better known as Bhagavaty Amma temple, this temple is famous for its unique design and flow of tourists
3.Suchindrum
A 134 feet ancient temple built in Dravidian style .it visited by several thousands of people
4.Padmanabhapuram Palace
Constructed in 1601 AD This palace was the residence of Travancore kings. The fort has many adjoining buildings ,Chamber of King's council, museum and halls for performances
5.Thiruvalluvar Statue
This 133 feet statue was built in the memory of greatest poet of Tamil literature in 2000. It is designed and decorated with 10 elephants facing to different directions.
Distance from Different places to Kanyakumari
Trivandrum to Kanyakumari : 90 km/2 Hours
Cochin to Kanyakumari : 294 km/6 Hours
Munnar to Kanyakumari : 336 km/6.45 Hours
Thekkady to Kanyakumari :349 km/6 Hours
Alleppey to Kanyakumari: 237 km/4.45 Hours
Kovalam to Kanyakumari : 82 km/1.45 Hours
(Distance May Vary From Point to Point)
Also Read :Kanyakumari Tour Packages